Home
Talk

52
1,141pages on
this wiki
Welcome to Bloons Wiki

Basic Information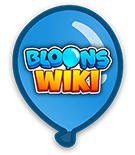 Bloons Wiki is a wiki about Bloons Games & Bloons Tower Defense Games, video game series for phones, tablets, and web browsers developed by
Ninja Kiwi
. Bloons Wiki serves as a resource for players of these games.
Bloons Games
are single-player browser games (flash games) about a monkey that pops balloons (called
bloons
in all series). Many bloons have special powers. The popularity of the original
Bloons
game (or Bloons 1) game has led to sequels, spin-offs, and iPhone/iPad games.
Bloons Tower Defense Games
are games of the tower defense genre, where
towers
are operated by monkeys, and they fight agains bloons hordes. Every new Bloons TD sequel introduces a number of new tower types along with their upgrades, new and bigger bloons enemies and also new
tracks
. The latest Bloons TD games, introduce features that aren't commonly found in other tower defense games such as:
Contents
Did you know...
Submit new facts!
If you see any obsolete or incorrect facts, report it to admins.
Latest News
Create blog post

Bloons Wiki News

Wow, it's only two days until 2014!




Since the last news blog...

Bloons Monkey City is out! I played a little bit of it a couple days ago.
There were some updates in Bloons TD 5: the main menu was Christ…


Read more >

I have been busy for the past couple of days/weeks, that's why I didn't make a news blog. Anyways, here is the news for the wiki.




I have been saving every e-mail Ninja Kiwi sent to me. I sasved them f…


Read more >

There was nearly nothing in the past two weeks.




In Bloons TD 5 iOS, there was a new update that included Co-op Mode! The update included two tracks: South Coast and Unfair Share.
In Bloons TD 5, three …


Read more >

See more >

(91 total)

Create blog post

Community News

Hello,

I would like to announce a new event called Monkey Race. The event is for 4-8 people. It is a kind of a board game. Each player controls one monkey, and the goal is to be the first person who ge…

Read more >

Hi all,

I would like to improve our User Rank template and display a different icon for different ranks there. I plan to use rank icons from Bloons TD 5 Deluxe, and I have already acquired icons of th…

Read more >

Hello people of the Bloons Wiki, if you have been here for long enough, you would've known we had a collaboration fanfic here, unfortunately, it was removed due to some 'copyright issues'.

Since SW ke…

Read more >

See more >

(13 total)
Chat
Join the Chat
Featured Video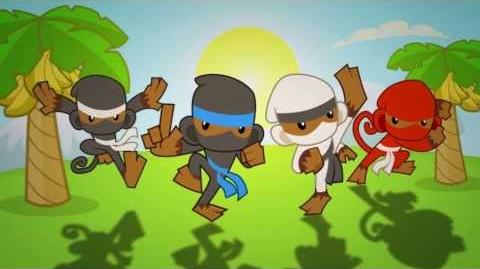 Featured Article

Bloons Super Monkey 2 is among Ninja Kiwi's most recently released of games and thus, also utilizes Awesome Points. The game has been classified into the "arcade" genre by Ninja Kiwi and was released on May 13, 2013. It also adds five new bloons types from its predecessor Bloons Super Monkey: the Mini MOAB, Shielded Bloon, Glass Bloon, UFO Bloons and Read more...
Vote for next month's featured article!
Community Messages
Poll
Which is your favourite BMC starting tower?
How do you get a notification about a new blog post?
Leave a comment for the last option.