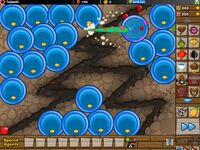 Activate Sea Monster! is the special ability for the Portable Lake Pro. It creates a tentacle that lashes out five times. Each bloon that is hit is popped by 5 layers. This ability is unlocked by placing 50 Portable Lakes and is acquired by buying the Portable Lake Pro. It has a rather fast cooldown, being TBA seconds.

Pink Bloons can be completely popped in just one hit.
The rubber duckie turns from yellow to red, and changes its position in the lake from the bottom of the lake to the right. Also, the edge of the lake itself now has pink spots.
This ability is probably a spin on all the stories regarding sea monsters.
Ad blocker interference detected!
Wikia is a free-to-use site that makes money from advertising. We have a modified experience for viewers using ad blockers

Wikia is not accessible if you've made further modifications. Remove the custom ad blocker rule(s) and the page will load as expected.