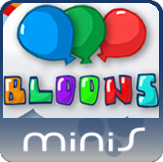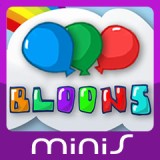 Bloons (PSN) is a Bloons Game available on the PlayStation Network. Bloons PSN is a minis game and is playable on both the PS3 and PSP. It costs $2.99 on the NTSC PS Store, and is 8154 KB in size. It was released on November 23, 2009. It's rating in the PlayStation Store after 759 ratings (June 18, 2011) is 3.43/5. It was developed by Hands-On Mobile, Inc.
PlayStation Plus
Edit
Bloons on PSN was added to the Playstation Plus library of games and discounts on October 19, 2010. It became free to PS Plus subscribers. It is still being offered for free through PS Plus as of June 18, 2011.
It is the first Bloons game to be released on a video game console.
This is one of the Bloons game that was not made entirely by Ninjakiwi
Ad blocker interference detected!
Wikia is a free-to-use site that makes money from advertising. We have a modified experience for viewers using ad blockers

Wikia is not accessible if you've made further modifications. Remove the custom ad blocker rule(s) and the page will load as expected.