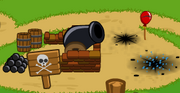 Bombing Range is a Specialty Building for the Bomb Tower. It costs

750 to purchase it and increases the cost of Spike Factories and its upgrades by 5%.

Initial cost is 750
Second upgrade costs 750
Third upgrade costs 1000
(Bloons TD 5 iOS only) Fourth upgrade costs 1200 (gives the Bomb Tower an ability that doubles all other Bomb Towers' ranges temporarily)
Disadvantage: Increases the cost of Spike Factories by 5%
Despite being a Specialty Building, the Bombing Range, like the Mortar Emplacement, does not include an actual building unlike other Specialty Buildings.
The third tier of Bombing Range has no additional advantage over second tier for Bomb Towers with the Bloon Impact upgrade.
There is a shattered Lead Bloon where the scorch mark is.
The fourth upgrade stacks with other abilities, meaning you can give your bomb towers infinite range. The projectile can only travel so far, however.
Ad blocker interference detected!
Wikia is a free-to-use site that makes money from advertising. We have a modified experience for viewers using ad blockers

Wikia is not accessible if you've made further modifications. Remove the custom ad blocker rule(s) and the page will load as expected.