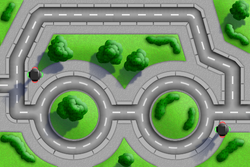 Bus Route is a track in Bloons TD 4 (iPhone/iPod Touch).
Appearance
Edit
This track in in the shape of a bus. There is grass around the road, and some trees and bushes in each patch of grass. There are two traffic lights where the track splits or comes back together. The path the bloons take is marked by the road.
Tracks in the Bloons TD Series
Ad blocker interference detected!
Wikia is a free-to-use site that makes money from advertising. We have a modified experience for viewers using ad blockers

Wikia is not accessible if you've made further modifications. Remove the custom ad blocker rule(s) and the page will load as expected.