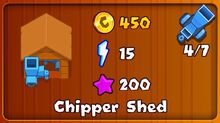 Appearance
Edit
As it implies, it looks like a wooden shed containing what looks like to be a type of woodchipper (a.k.a the Bloonchipper.)
You need at least
15, one tile with 3x3 space &
450 after completing the Bloonprint Hideout mission. It takes 30 minutes to construct & for each one built will yield a bloonchipper for use as seen in the top right-hand corner of the image provided.
Ad blocker interference detected!
Wikia is a free-to-use site that makes money from advertising. We have a modified experience for viewers using ad blockers

Wikia is not accessible if you've made further modifications. Remove the custom ad blocker rule(s) and the page will load as expected.