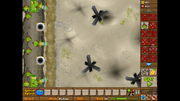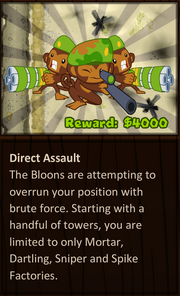 | | | |
| --- | --- | --- |
| " | The Bloons are attempting to overrun your position with brute force. Start with a handful of towers, you are limited to only Mortar, Dartling, Sniper and Spike Factories. | " |
| | ~ Description | |
Direct Assault is a new Special Mission in Bloons Tower Defense 5 Deluxe. It has its own unique track. You start off with 3 Dartling Guns, 2 Mortar Towers, 4 Sniper Monkeys, and 2 Spike Factories (All of them are already placed on the track). The Bloons come from the 10 different paths on the right and go towards the left in a straight line. Your towers (on the left) have to make sure no bloons come and pass the barbed wire (which causes you to lose a life). You can only buy Mortar Towers, Sniper Monkeys, Dartling Guns, and Spike Factories. Pass 25 custom rounds to win

4000.
Strategies
Edit
Main article: Direct Assault/Strategies
Many players will need a Super Monkey Storm for round 23 as the level is extremely hard.
It is possibly the hardest Special Mission in the BTD5 series due to the high Monkey Money reward and round 23.
The picture shows 2 Dartling Guns and 1 Sniper Monkey, but in the mission, there is 1 Dartling Gun and 2 Sniper Monkeys.
Rounds 8 and 10 have the same bloons spawning; the same also applies to Rounds 16 and 19.
The mission may be a reference to D-Day, with the steel hedgehogs and the beach assault.
Ad blocker interference detected!
Wikia is a free-to-use site that makes money from advertising. We have a modified experience for viewers using ad blockers

Wikia is not accessible if you've made further modifications. Remove the custom ad blocker rule(s) and the page will load as expected.