Drag Strip is a new Bloons TD 5 expert track release in an update on August 17, 2012 unlocked at Rank 41, or 49 in Bloons TD 5 Deluxe.
This track takes place in a racing area, with two separate but identical paths. The path of the bloons is followed by the spilled fuel, making the actual track look like a zigzag. There is a traffic light (at the middle-left corner). The yellow lights means to be ready; while a green light appearing means to go (when the 2 carts and bloons starts to appear). When all the bloons are popped, a red light will appear. When the player is ready and starts the round, the carts appear; the cart on top is a Technological Terror and the one below is a Master of Fire).

Achievements
Edit
| Name | Awesome Points | Image |
| --- | --- | --- |
| Drag Strip Bronze | 10 | |
| Drag Strip Silver | 25 | |
| Drag Strip Gold | 50 | |
Monkey Money Rewards
Easy
Medium
Hard
Impoppable
First Time
$300


$600




$300

$400


$800




$500

$600


$1200




$800

$1200

Completed
$60


$120




$120

$80


$160




$200

$120


$240




$320

$480
Token Rewards

| Easy | Medium | Hard |
| --- | --- | --- |
| 4 | 5 | 6 |
Strategies
Edit
Main article: Drag Strip/Strategies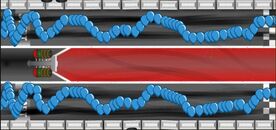 At the beginning of each round, 2 race cars come by that contain a Master of Fire and a Technological Terror.
This track is called Drag Strip because it is composed of a race area and has many seemingly straight lines.
There are 5 wheels on this track.
If played on reverse, it can be seen that the bloons spawn before the racecars do. The cars does not layer above the bloons, probably because bloons float over them. Alongside, the race cars does not damage bloons.
Tracks in the Bloons TD Series
Ad blocker interference detected!
Wikia is a free-to-use site that makes money from advertising. We have a modified experience for viewers using ad blockers

Wikia is not accessible if you've made further modifications. Remove the custom ad blocker rule(s) and the page will load as expected.