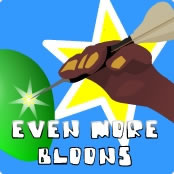 Even More Bloons is the 2nd expansion for the original Bloons, coming after More Bloons. It was the last game released in the main Bloons game series before Bloons 2. Helium Bloons made its debut in this game.
Play the game at NinjaKiwi's website.

Some levels are harder than the levels of More Bloons. Like all games, some levels are easy but some of them are challenging. Here's the list of levels:
From this game onwards, darts can be thrown rapidly.
Ad blocker interference detected!
Wikia is a free-to-use site that makes money from advertising. We have a modified experience for viewers using ad blockers

Wikia is not accessible if you've made further modifications. Remove the custom ad blocker rule(s) and the page will load as expected.