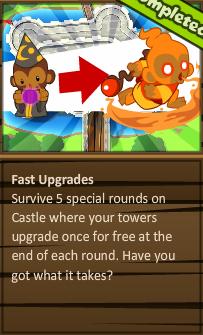 | | | |
| --- | --- | --- |
| " | Survive 5 special rounds on Castle where your towers upgrade once for free at the end of each round. Have you got what it takes? | " |
| | ~ Official Description | |
Fast Upgrades is a Special Mission in BTD5 unlocked at Rank 40.

500 and

75 is awarded upon completion.
As per the description, this mission will upgrade all your towers once for free at the end of the round. Note that the sell price will NOT increase with the upgrade. Also, the first path will be upgraded by default unless the second path has MORE (not equal) upgrades than the first.
Unlike normal modes in BTD5, the bloons come in a constant spread. This makes 3/0 and 4/0 glue gunners highly effective. But be warned, on round 4, placing towers nearby can make them pop the ceramic bloons before they are glued, meaning the mutliple bloons that are released will have to be glued indiviually.
Don't be afraid to use road spikes. They are not a necessity to complete this round even if you're trying to complete it without losing a single life.
Strategies
Edit
Main article: Fast Upgrades/Strategies
Round 3 can be difficult if you don't have anything like bombs, snipers etc.
In Bloons TD 5 Mobile (version 1.1), the completion reward for beating it 2 or more times was reduced to 30 (100 before version 1.1) because before version 1.1, you could get Monkey Money quickly this way.
This is the second shortest mission in BTD5 following MOAB Madness (5 rounds only).
This is the only mission on which you get free upgrades.
The tower will upgrade at the end of the round even if the upgrade is locked. (e.g. x/3 Spike Factory will upgrade to x/4 even if you are below rank 45)
Reward for completing a round is increased to $799 times the number of the round.
You can continue to play after round 5 and still receive free upgrades if you exit the game on the victory screen and resume your saved game. This works on all missions with a round cap.
Repeating this mission over and over will not cause progress toward the Steely achievement.
Having an already fully upgraded tower will not upgrade any part of the tower.
Ad blocker interference detected!
Wikia is a free-to-use site that makes money from advertising. We have a modified experience for viewers using ad blockers

Wikia is not accessible if you've made further modifications. Remove the custom ad blocker rule(s) and the page will load as expected.