Freeze Out
is a B

onus Item that appeared in
Bloons Super Monkey
. It is the most common item in the game.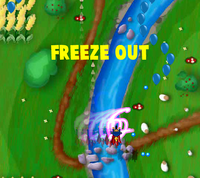 It stops the movement of all
bloons
and
Power Blops
on screen. It is represented by an ice cream cone. This gives you more time to pop more
bloons
and collect more
Power Blops
.
The Super Monkey and its abilities goes x2 slower than normal while this bonus item is in effect.
Red Bloons only will give you 1 Power Blop at once if Freeze Out is activated.
Ad blocker interference detected!
Wikia is a free-to-use site that makes money from advertising. We have a modified experience for viewers using ad blockers

Wikia is not accessible if you've made further modifications. Remove the custom ad blocker rule(s) and the page will load as expected.