For the Golden Bloon in Bloons Super Monkey 2, see Golden Bloon (BSM2).

The Golden Bloon is an event and a Bloon type in Bloons TD 5 Mobile. It was added on September 16, 2016. When the event is available, a Golden Bloon is displayed on the map selection screen and clicking in leads the player to the map where the Golden Bloon is actually available. While playing the map, the Golden Bloon appears once between rounds 30 and 40. It moves the opposite direction than regular Bloons on the track (i.e. it goes reverse when the track is not played as reverse and vice versa) and regardless whatever difficulty. It has the properties of a Ceramic, Camo, and Lead Bloon. After 10 hits, the Bloon pops and releases a reward. The Golden Bloon's rewards can be Agents or Monkey Money, and the rewards are better in higher difficulties. After the round where the Golden Bloon appeared (no matter if it was popped or it leaked), it moves to a different map where it is available after 4 hours. If you miss the Golden Bloon and restart the map (in an attempt to get a second chance), it will not reappear.

Strategies
Edit
A 2/x Spike Factory can pop a Golden Bloon as it ignores the Camo and Lead property and deals at least 10 damage to the bloon.
You can also treat this as a DDT and use the same strategies as that.
MOAB Takedown and MOAB Assassin Ability will pop the Golden Bloon instantly
Use 1 of 2 low level ice towers with added camo to temporarily freeze the Golden Bloon. It increases the chances of other towers hitting the golden bloon and damaging it
Use the Sub's Submerge and Support upgrade to permanently reveal its camo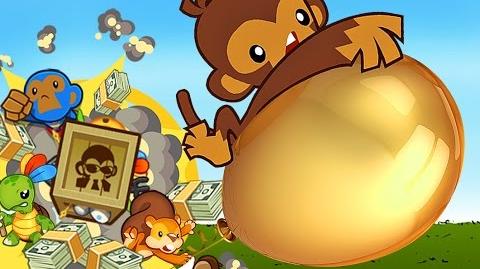 Ceramics in Mastery Mode used to be upgraded to Golden Bloons instead of M.O.A.B.s, due to a glitch, as it was though that Golden Bloons are one rank higher than ceramics, but under M.O.A.B.s, this was also present in Random Missions that increase Bloon ranks.
If this leaks, the player will not lose any lives.
These can be destroyed in one shot with a Super Monkey Storm.
The cheapest way to destroy the Golden Bloon without using Agents is by putting a Spike Factory by the end and upgrading to White Hot Spikes.
If you look very closely at an in-game Golden Bloon, you can see camo patterns on it.
3/2 Heli-Pilot (Razor Rotors with Enhanced IFR Instruments) can destroy Golden Bloons, but not recommended since these have fast speed.
Ad blocker interference detected!
Wikia is a free-to-use site that makes money from advertising. We have a modified experience for viewers using ad blockers

Wikia is not accessible if you've made further modifications. Remove the custom ad blocker rule(s) and the page will load as expected.