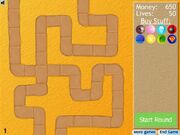 The Hard Track is a track from the second Bloons TD game, Bloons Tower Defense 2. It is one of the 3 tracks in Bloons TD 2, all a different difficulty. This one, as the title suggests, is the Hard Difficulty track. The player is started out with 650 Money and 50 Lives. Also, all the towers, upgrades, and road items are more expensive than they are in the other 2 tracks.
Strategies
Edit
Main article: Hard Track (BTD2)/Strategies
This is the only track in BTD2 that has 2 entrances and 2 exits, as well as the first track in any BTD game to have more than 1 entrance and exit.
Tracks in the Bloons TD Series
Ad blocker interference detected!
Wikia is a free-to-use site that makes money from advertising. We have a modified experience for viewers using ad blockers

Wikia is not accessible if you've made further modifications. Remove the custom ad blocker rule(s) and the page will load as expected.