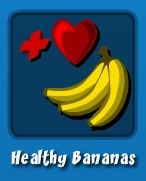 Healthy Bananas is a premium upgrade for the Banana Farm in Bloons Tower Defense 4 and Bloons Tower Defense 5. It costs

15 in BTD4,

15 in BTD5,
4800 in Bloons Tower Defense 5 Deluxe,
1000 in Bloons Tower Defense 5 Steam and $0.69 in BTD5 Mobile. When you beat a level, you get as many lives as upgrades on the Banana Farms plus one for the Farm itself (Multiple farms also means more lives).
For example, a Banana Republic (3-0) gives 4 lives. A Banana Research Facility will earn you 5 lives and 7 with Valuable Bananas, whereas 2 unupgraded Banana Farms earn 2 lives total.
This Premium Upgrade allows for the only way to let an MOAB-Class Bloon through a level and still have lives to spare besides More Lives. If the player can save up enough lives, there will still be some left over if an MOAB-Class Bloon is let through. However, you'd need to save up 16,657 lives to let a ZOMG escape with 1 life remaining.
As players share their lives in Co-op Mode, the player also benefits from the team-mate's Healthy Bananas, though the upgrade itself affects only the Banana Farms of the player who owns the upgrade.
Ad blocker interference detected!
Wikia is a free-to-use site that makes money from advertising. We have a modified experience for viewers using ad blockers

Wikia is not accessible if you've made further modifications. Remove the custom ad blocker rule(s) and the page will load as expected.