Inter-Dimensional Track
is an
advanced difficulty
Premium
track
in
Bloons TD 4
. It costs

15 to obtain it. The length of the track is relatively short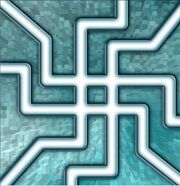 and there are 4 different paths, making this track rather challenging. The bloons enter from the left, top-left, top and the top-right and exit at the bottom-left, bottom, bottom-right and the right.
A Tack Shooter would be useful in the middle.
Placing all of the best towers around the middle is a good idea so they can attack all of the paths. However, if you do this with a few towers, they can easily get overpowered, so put many in the middle.
Ad blocker interference detected!
Wikia is a free-to-use site that makes money from advertising. We have a modified experience for viewers using ad blockers

Wikia is not accessible if you've made further modifications. Remove the custom ad blocker rule(s) and the page will load as expected.