The Bloons 2 Level Skip is a power up in Bloons 2. You have five at first and can earn one extra Supermonkey by passing a zone and packs of 3, 50, or infinite supermonkeys when using Mochicoins. When you click the button your dart monkey will become a Super Monkey with Laser Vision. Click and hold to shoot lasers, move cursor to aim.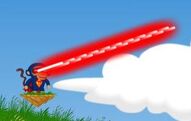 Even though it has Laser Vision, it can still destroy all blocks, including metal. This is strange, considering in the Bloons Tower Defense Games (Excluding Bloons TD 4 iOS), Laser Vision cannot even pop through Lead Bloons.
When you click the Maximum Power button, it will automatically shoot the laser nonstop unless you click.
It is possible not to destroy the bloons by aiming someplace else.
When the super monkey destroys a reverse gravity bloon, instead of shooting lasers the opposite direction, its cape will fly up.
The player can buy more Level Skips with Mochicoins.
If a level is exceptionally annoying, then it is best to destroy all blocks, then destroy the Bloons.
Ad blocker interference detected!
Wikia is a free-to-use site that makes money from advertising. We have a modified experience for viewers using ad blockers

Wikia is not accessible if you've made further modifications. Remove the custom ad blocker rule(s) and the page will load as expected.