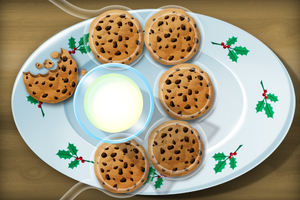 Milk 'n' Cookies is a Beginner Difficulty track in Bloons TD 4 iOS.
It consists of a Christmas plate which is holding 6 chocolate chip cookies, 1 being eaten. A glass of milk is surrounded by the cookies. The plate is placed on a tabletop.
It is a Christmas themed track, so all the bloons have different appearances.
Towers can be placed on the tabletop, the cookies, and the platter, while Monkey Buccaneers can be placed in the glass of milk.
The Bloons go around all of the cookies except the eaten one.
Tracks in the Bloons TD Series
Ad blocker interference detected!
Wikia is a free-to-use site that makes money from advertising. We have a modified experience for viewers using ad blockers

Wikia is not accessible if you've made further modifications. Remove the custom ad blocker rule(s) and the page will load as expected.