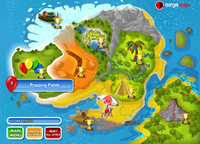 Popping Fields is the 1st map zone the player will be able to access in Bloons 2.
It appears as a grassy field with plants, along with a countryside-like environment in the background.
There are 12 levels in Popping Fields:
It is the only map area that is unlocked when the player first starts playing the game.
Ad blocker interference detected!
Wikia is a free-to-use site that makes money from advertising. We have a modified experience for viewers using ad blockers

Wikia is not accessible if you've made further modifications. Remove the custom ad blocker rule(s) and the page will load as expected.