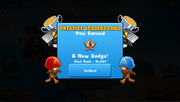 Prestige is the net gain of Medallions, featured in Bloons TD Battles Mobile and Bloons TD Battles Steam. Getting enough Prestige will earn any type of badge that can be earned in the Prestige leaderboards.
Winning battles adds Prestige Score, while losing battles take away Prestige Score. To earn any Prestige medal, the player must have greater than 0 Prestige Score and reach 25,000th in the leaderboard or better in the Prestige leaderboards. The Prestige leaderboard lasts for a total of 14 days.
Different medals may be earned depending on how much Prestige Score one has.
| Prestige Medals | Place range |
| --- | --- |
| Black Diamond | 1st |
| Red Diamond | 2nd |
| Diamond | 3rd |
| Gold Black Diamond | 4th to 10th |
| Gold Red Diamond | 11st to 25th |
| Gold Diamond | 26th to 100th |
| Gold | 101st to 10,00th |
| Gold & Silver | 1,001st to 2,500th |
| Silver | 2,501st to 5,000th |
| Silver & Bronze | 5,001st to 10,000th |
| Bronze | 10,0001st to 25,000th |
Ad blocker interference detected!
Wikia is a free-to-use site that makes money from advertising. We have a modified experience for viewers using ad blockers

Wikia is not accessible if you've made further modifications. Remove the custom ad blocker rule(s) and the page will load as expected.