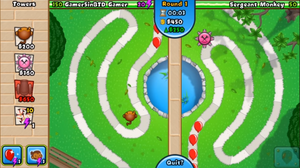 Sergeant Monkey is the opponent a new player fights in the tutorial of Bloons TD Battles Mobile. The new player goes to the tutorial first even when they press the "Quick Play" button.
Attack Pattern
Edit
First, he will add a 0/0 tack shooter in a corner of the leftmost track.
He will wait until a few rounds to get 2 2/2 dart monkeys and 2 0/2 bomb towers.
Because he doesn't get Frag Bombs, the Black Bloons that the player are forced to send will most likely leak all of his lives.
It is possible for him to survive the black bloons. If he does, he will later build a 2/0 Sniper Monkey, another 0/2 bomb tower, and another 2/0 tack shooter.
Afterwards, he will send 1 pack of camo pinks. The player should defeat it because the player has to use battle energy. The camo pinks the player has to send should leak all of his lives if not most.
He has 50 lives instead of the original 150 lives. This makes him requiring less bloon leaks.
If the player has 3rd/4th tier upgrades for bomb towers/dart monkeys/tack shooters, the player is still able to use them in the battle.
Ad blocker interference detected!
Wikia is a free-to-use site that makes money from advertising. We have a modified experience for viewers using ad blockers

Wikia is not accessible if you've made further modifications. Remove the custom ad blocker rule(s) and the page will load as expected.