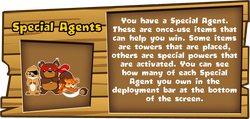 Special Agents are powerful towers or abilities that were introduced in Bloons Tower Defense 5 and appear in every game after (excluding Bloons TD Battles). Unlike regular towers, they cannot be found in normal game play. Instead, you have to earn Monkey Money to hire them. To hire them, click on the tent with the camouflage pattern on the homepage. Each agent has its own power and can only be used once before it must be purchased again. Special Agents can also gain permanent upgrades called Special Agent Pros once used a certain amount of times.
Watermelon Spitter - 100

It fills its cheeks with watermelon, and then attacks with a rapid fire burst of seeds.

Monkey Farmer - 40

It doesn't attack but picks up bananas from Banana Farms within its range.

Mad Snowman - 60

It attacks by throwing snowballs at bloons, which pop before freezing. It disappears after 10 rounds.
Radadactyl - 100

It attacks by swooping around a nest, popping nearby Bloons.
All special agents included in the standard Bloons Tower Defense 5 on Ninja Kiwi's website are also available here. However, the mobile version also has the Banana Farmer available to players.