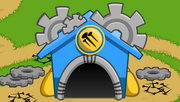 Spikes R Us is a Specialty Building for the Spike Factory added in an update to Bloons Tower Defense 5 on the 21st of June, 2012. It costs

500 to purchase and it increases the cost of Tack Towers by 5%, whilst decreasing the cost of spike factories by 5%. It can be upgraded to increase the lifespan of spike factory spikes by 10%, and it can be upgraded to generate a free road spike pile for every round. This building is very useful as it lowers the cost of Spiked Mines, and since Tack Shooters are not overly expensive, the disadvantage doesn't overcome the advantages. 10% lifespan of Spike Factory spikes are helpful when used as an exit defender.

Second upgrade costs 500
Third upgrade costs 1250 (1000 in the Mobile version)
(Bloons TD 5 Mobile only) Fourth upgrade costs 1200 (all Spikes and Balls pop 50% more Bloons)
Disadvantage (while the specialty building is active) increases the cost of Tack Towers and their upgrades by 5%
Spikes R Us is a play on the real store named Toys "R" Us.

In Toys "R" Us you can buy toys so this is a place to buy Road Spikes as the name is Spikes R Us.

For the third upgrade, you will still get free road spikes every round, even if you don't have any Spike factories.
This is the only specialty building that gives you something that is not completely related to the towers themselves. (Road spikes are not Spike Factories, but they probably come from Spikes R Us.)
This is one of the few Specialty Buldings where it costs 500 to purchase to building. The others being Dart Training Facility and Tack Research Center.
Despite the fact that Tier-2 of Spikes R Us mentions the lifespan of Spike Factory spikes, it also affects the lifespans of balls and mines from the Spiked Ball Factory and Spiked Mines upgrades.
Ad blocker interference detected!
Wikia is a free-to-use site that makes money from advertising. We have a modified experience for viewers using ad blockers

Wikia is not accessible if you've made further modifications. Remove the custom ad blocker rule(s) and the page will load as expected.