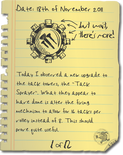 Tack Sprayer is a level 3 upgrade for the Tack Shooter on Path 1 in Bloons TD 5, costing $425 on Easy, $500 on Medium, $540 on Hard and $600 on Impoppable. Instead of 8 tacks shooting out, it shoots out 16 making it more powerful than before and pops more too. Since it shoots out 16 tacks it is almost impossible for bloons to dodge the tacks.


Sometimes the Tack Sprayer seems to pop 2 layers of bloon. That is because 2 tacks hit the same bloon.
Tack Sprayer can pop MOAB-Class Bloons far more efficiently than Bloons TD 5's Ring of Fire.
A Tack Sprayer and a Blade Shooter can pop 16 bloons per shot even though Tack Sprayer upgrade is cheaper than Blade Shooter.
The Tack Sprayer upgrade icon shows only 12 tacks instead of 16.
This upgrade is more efficient paired with third and forth level in Tack Research Center and other extra pierce boosts in Monkey Knowledge; this is because that more projectiles gain the extra pierce while there are lesser Blade Shooter's blades that gain the boosts.
Upgrades in the Bloons TD series