For the track's more difficult counterpart, see Rink Revenge.
The Rink is a Beginner Track in Bloons TD5. This track was released in an update on February 2nd, 2012.
This track is very easy as there are lots of straight lines. The Spike-o-pult and its Juggernaut upgrade are highly recommended. The Ray of Doom upgrade is highly recommended for MOAB-class bloons. This stage seems to be an easier version of the DNA Test track in Bloons Tower Defense 4. This stage has water at the top-right curve. Bloons enter from the bottom of the track and exit to the right.

Walkthrough
Edit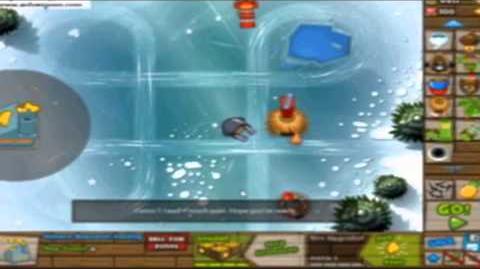 Achievements
Edit
| Name | Awesome Points | Image |
| --- | --- | --- |
| The Rink Bronze | 10 | |
| The Rink Silver | 25 | |
| The Rink Gold | 50 | |
Monkey Money Rewards
Easy
Medium
Hard
Impoppable
First Time
$75


$150




$75

$100


$200




$125

$150


$300




$200

$300

Completed
$15


$30




$30

$20


$40




$50

$30


$60




$80

$120
Token Rewards

| Easy | Medium | Hard |
| --- | --- | --- |
| 1 | 2 | 3 |
A red bloon can leak in 68 seconds.
The track looks very similar to the command key on a Mac computer.
Occasionally, an animation of a penguin jumping into the water or sliding across the track will happen.
The player can fit four Monkey Buccaneers in the water in the top-right corner.
This track is possibly the easiest track in the BTD series because of it's long track length & the fact that it has far more room for towers than Space Truckin'.
This is one of the longest tracks in Bloons Tower Defense 5.
A 3-2 Sun God can destroy a Z.O.M.G. on this map when placed right in the middle.
Tracks in the Bloons TD Series
Ad blocker interference detected!
Wikia is a free-to-use site that makes money from advertising. We have a modified experience for viewers using ad blockers

Wikia is not accessible if you've made further modifications. Remove the custom ad blocker rule(s) and the page will load as expected.