Tracks
Talk

2
1,182pages on
this wiki
Please see the discussion page on uploading track pictures.
Tracks in the BTD series are where bloons travel. There are many tracks to choose from. Many tracks have varieties, including but not limited to a certain number of Bloon entrances, length and multiple paths. Most tracks did not have a specific name until Bloons Tower Defense 4.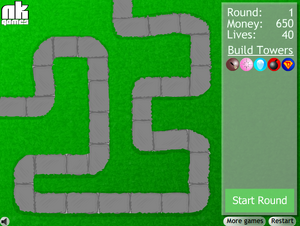 In the original Bloons Tower Defense, there is only one track and no selection of difficulty. The bloons come from the left and go up to the top. The bloons are also very off-centered in BTD1.
The track is the very first track in the Bloons TD series. The terrain is grassy; the grey paths look like stones. There are no trees or water.
There are 3 tracks, chosen as difficulties.
This track is quite easy; it has white paths and is located in the sky. Bloons appear from the left and exit to the bottom.
This track has the same terrain as the BTD1 track, being grassy and having same color of paths, grey. Bloons start from the top and exits to the bottom.
The most difficult of the three tracks, with two intersecting paths. It is most likely located in a desert; the paths are grey.
There are 8 tracks in BTD3. The final four tracks are only available if the game is played on Ninja Kiwi.

In BTD4, there are 9 default tracks and 7 premium tracks.
There are 4 tracks; the Beach, the Sewer, the Monkey Temple and the Triangle of Insanity, as well as the 7 premium tracks in the regular BTD4.
In BTD5, there are 40 tracks, and four of them are exclusive to Co-op Mode.
These are the lengths of different tracks in Bloons Tower Defense 5. Track lengths are measured in RBS (red bloon seconds i.e. the approximate time taken in seconds for a red bloon to complete the track). Also, as some Intermediate, Advanced and Expert tracks have multiple paths, the time listed is the shortest path.
Beginner Tracks
Intermediate Tracks
Advanced Tracks
​Expert Tracks
Extreme Tracks
In BTD5 Deluxe, there are 50 tracks:
Beginner Tracks
Intermediate Tracks
Advanced Tracks
Expert Tracks
Extreme Tracks
In BTDB, there are 19 tracks in total:
A-Game